Sooner or later, every marketing leader gets asked the big question: How is marketing contributing to pipeline?
Your answers will likely reflect where you are in the marketing operations maturity model.
The what? It's a thing.
Put simply, if you manage a strategically-thinking, proactive team and a well-integrated marketing technology stack, you will have better clarity over marketing's contribution to the bottom line than the reactive marketer focused on executing campaigns.
That may sound intuitive enough, but it does not mean more headcount and more tools bring better insights.
Instead, awareness of marketing operations' role in the wider marketing function and broader revenue operations space informs your team's growth in relation to your organisation's growth.
That awareness should influence the people (or the agency) you bring on board and the tools you adopt in your marketing technology (martech) stack.
Let's look at the marketing operations maturity model and some real-world examples.
Take the humble "Contact Us" form on your website, the most basic of demand capture/lead capture tools. If you are a small business with long lead times and big invoices, you might be able to handle the one or two enquiries you get weekly via your email inbox.
Your martech stack is limited to a form plugin on your website and your inbox. If you are a bit tech-savvy, you might even connect the form to a Google Sheet and Mailchimp with Zapier.
In the marketing operations maturity model, you are at a foundational level. There is limited process and limited data.
But if you are scaling up or operating at scale from the start, managing those form submissions directly from your inbox or a spreadsheet will drive you crazy and likely cost you some business through lost opportunities.
You need to manage your leads and pipeline with tools designed for the task.
That will be a Customer Relationship Management platform, or CRM.
How Can a CRM Help?
A CRM will allow you to manage and nurture your leads, collaborate with your team, and keep track of how those leads interact with your brand and your content on the journey to becoming opportunities and your customers.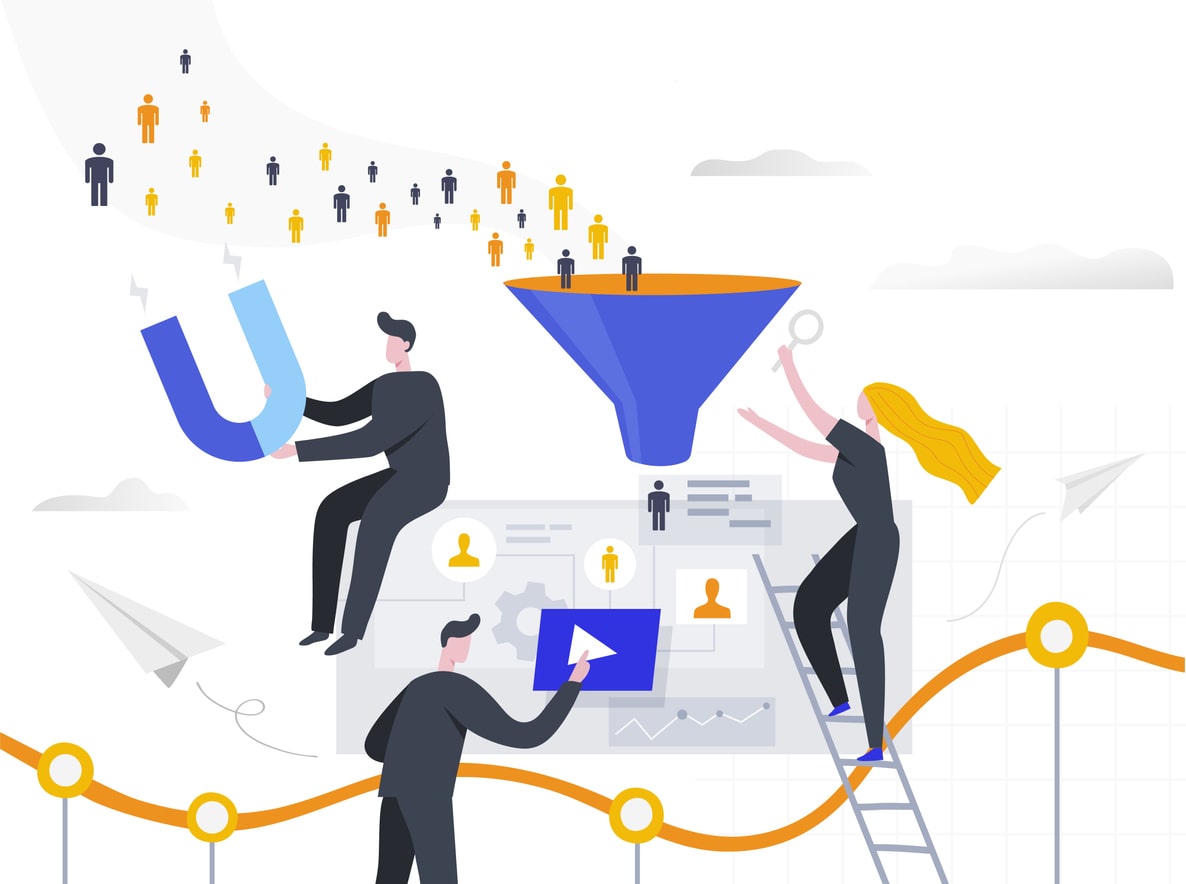 But marketing today is as much about nurturing customers post-sale and making them brand advocates as it is landing new ones. In a perfect world, you would use an integrated CRM solution that works for marketing, sales, and customer success.
Using a shared CRM across those three revenue functions or revenue operations can give you full visibility of where your customers are coming from, what marketing channels provide the best ROI, and where opportunities exist to delight and retain or upsell your current customers.
HubSpot is a leader in that space for integrated tools. It's a done-for-you marketing, sales, and service tech stack in an easy-to-use but powerful SaaS tool.
It is billed as a self-service tool, but to be honest you will need a marketing operations person to get the most out of it. That can be an in-house headcount or a HubSpot Solutions Partner agency like ours.
Once you are on a tool like HubSpot, you are further along that marketing operations maturity model and can better manage campaigns, pipeline, and data.
You have processes in place and a dedicated marketing operations function on your team.
It is a good place to be, and if implemented correctly, you will be able to answer how marketing contributes to pipeline and much, much more.
Follow the MAP
But in our not-so-perfect world, Marketing and Sales often have different preferences, requirements, and workflows, particularly in larger or legacy organisations.
Your sales leadership may prefer Salesforce, for example, the market leader in the sales CRM space.
But Salesforce lacks the functionality modern marketers expect, so a separate marketing CRM or marketing automation platform (MAP) is needed.
Most major MAP vendors offer integrations with Salesforce to varying degrees. HubSpot and ActiveCampaign are our favourites, and we are agency partners with both.
Those integrations offer bi-directional data flows, a great enabler of full lifecycle marketing.
Adobe Marketo and Oracle's Eloqua are notable in the enterprise (read: expensive) space, and Salesforce's own Marketing Cloud Account Engagement aka Pardot needs a mention here too.
Organisations with split sales and marketing CRMs can have split sales operations and marketing operations teams, and possibly a separate business intelligence function.
This is the peak of the marketing operations maturity model, where orchestration between multiple tools and business units happens.
Or should happen. Deep functionality can bring dysfunctionality if implemented poorly.
First Contact – the Benefits of Automation in CRM
Let's go back to that humble "Contact Us" form. As mentioned, in the most basic of use cases form submissions get emailed to the designated guy or gal on your team, and they follow up with that lead.
But if that form was linked directly to a MAP or CRM, simple automations could do things respond automatically via email saying someone will be in touch soon, assign the lead to a designated rep for follow-up, and start tracking that user's activities on your website.
Multiple lead capture forms can also be used so that different tailor-made forms could appear on campaign or vertical-specific landing pages, for example, and automatically tag or segment leads as they come into the CRM.
Going beyond that, tools like HubSpot and ActiveCampaign also provide the marketer with:
Lead Scoring. Scoring users by how they interact with your specific web pages and emails.
Automated Email Marketing. Send a series of emails to a new contact to nurture them, or a new customer to onboard them.
Chatbots and on-page messaging, both automated and live chat.
Attribution. What campaign, ad, event, or referral brought that lead to your business?
All of these are tools designed to enhance the user experience and increase personalisation without being too in-your-face or creepy and provide the business intelligence that product, sales, and marketing needs to grow revenue.
The relationship between your sales and marketing teams intersects at your CRM. At Salween Group, we've worked with companies large and small to improve their processes and their sales pipelines through tighter integration of the tools their teams use.
Implementing those tools does not need to be daunting, and we provide marketing operations support to our retainer clients as part of our agency's managed marketing technology offering.
We are a HubSpot Solutions Partner and an ActiveCampaign Agency Partner because we really like those products as marketers, and in the case of HubSpot, it is what we pay for and use ourselves.
We've learned what works and what doesn't through first-hand experience over the years, and are happy to share our expertise and opinions on what might be best for you and your business.
We are here to help. Drop us a line any time.