The public relations industry is going through some unprecedented changes in the digital age. With 4.7 billion internet users worldwide, most of them using the web as their primary source of information, the very definition of PR is being rewritten.
Not too long ago, the marketing and advertising industries mainly focused on using clever creative and paid placements in newspapers and magazines or purchased seconds of airtime on radio and TV. Think Mad Men.
Separately, the public relations business tacked toward trusted but unpaid channels such as traditional news media and speaking engagements or through sponsorships.
Now in the internet era, anyone can be a publisher. That has reshaped how information is distributed and consumed and undermined legacy industries such as traditional print and broadcast media.
A multichannel communications model
As a rule, communications industry practitioners plan an overall communications strategy through a mix of Paid, Earned and Owned channels. Agency head and author Gini Dietrich introduced a fourth channel — Shared — in her 2014 book, Spin Sucks, to create the PESO model. PESO is widely used and is a lot more catchy than PEO, but at Salween Group, we stick to three channels, classifying shared content under Earned. Good content "earns" shares for you. That will be the subject of a future blog post.
Your strategy should not insulate these channels and components. They can overlap, and integrating campaigns and resources under a multichannel marketing strategy will yield better overall results.
Here is an example:
Let's say you've conducted a study or published a white paper. You summarise the results on a blog on your website (Owned), post about it on your social media and link back to your blog (Owned), and maybe boost the post to reach a wider audience (Paid). Simultaneously, you publicise the results through a press release, leading to mentions in the media and bloggers' sites (Earned). Further awareness is raised as people share links to stories or post about them via Facebook, Twitter or LinkedIn (Earned).
That is a basic content strategy. You maximise the value of a piece of content by repurposing it across multiple channels.
Value of earned media
As mentioned, paid media has long been the go-to tool of choice for marketing and advertising, but that has changed. Owned and earned media have been rising in importance in an age where people resist being sold to, and the buzzword among younger consumers is "authenticity".
So while many people recognise the importance of being mentioned by a news outlet, you may not be unlocking as much value as you could. It requires slightly more attention in today's digital world.
Yesterday's newspaper will end up in the recycle bin or at the bottom of your birdcage, but online media persists well beyond the day of publication. A piece of content can be found on the internet long after it has been uploaded.
And people can find that content through a search.
For a brand, being found in a search is perhaps the most crucial PR outcome right now, where online search and research dominates the customer journey.
On average, a person does three to four searches every day, and through search, people become familiar with a brand and its products and services.
What improves the ability to be found in searches? Online brand mentions, social shares of those mentions, and links back to a brand's "Owned" digital properties all help.
So when you do PR correctly, you can reap the rewards of greater brand awareness, credibility and domain authority months or even years after the initial media mention.
Pitching
One element that has withstood change is relevance. Is this newsworthy to the media outlet's audience?
Journalists, bloggers and influencers are inundated with story pitches and press releases in their inboxes. Some editorial teams get hundreds of releases daily.
To cut through the noise and be heard, your pitches and press releases need to be relevant, concise, and on point.
Relevant means not only newsworthy but placed in the hands of the right person at the right media outlet.
PR practitioners today are spoiled for choice when it comes to media databases and outreach tools. From the big boys Cision and Meltwater to scrappy digital-era startups like Prowly, PR software is available at various price points and feature sets.
That is a positive, modern development. But it also means a lower barrier to entry into the public relations space. It doesn't take much for a digital marketing agency to add PR to its menu of offerings.
Here is where Salween Group stands out. Our founder and senior management team come from journalism and corporate communications backgrounds.
Our corporate mission is to promote better understanding and empathy through communication. That mission is the cornerstone of our company's culture, and our people embody it.
It forms the core of what we do from a brand storytelling and PR and media outreach standpoint.
We help brands tell compelling stories. It is in our DNA.
Our view is high-quality content as part of a well-crafted multichannel communications strategy can differentiate your brand in the sea of online noise.
Oh, what tools do we use? Muck Rack is our current choice, and because they require an annual commitment it is one we'll be living with for a while. It is a great tool for media outreach and pitching and has some excellent features for media monitoring, coverage reports, competitive benchmarking for things like Share of Voice and features that help measure what matters for PR.
PR Newswire, the granddaddy of wire distribution services, is our go-to choice for the broad distribution of press releases.
Listening
Brand monitoring is an essential part of public relations. A few of the tools already mentioned offer monitoring but in terms of bang-for-buck, we are admirers of Brand24.
Brand24 allows us to monitor online brand mentions across news sites, social media, blogs, and podcasts. That is important in helping measure our PR work's efficacy and immediately alert us to any negative comments or changes in brand sentiment.
We can also monitor our client's competition, gauge our share of voice, or see who is getting the most online buzz.
Muck Rack has replaced Brand24 for some of our use-cases. Its search parameters are pretty powerful and that helps weed out false positives in monitoring.
For brands where we have a mandate for social media, we complement our PR tools with Agorapulse. Agorapulse is excellent for managing social media accounts at scale.
Media Training
Getting C-suite executives on-air, on panel discussions, or interviewed over a call works best when those executives are confident speakers.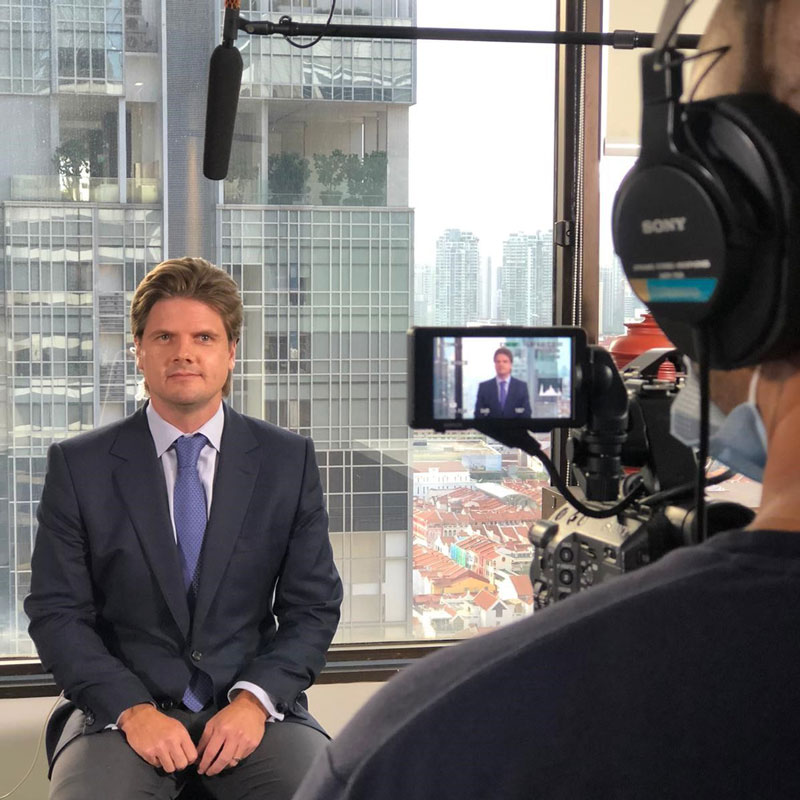 But anxiety over speaking to media can cripple even the most confident, and we tackle that through media training.
For us, media training is not about "spin". It incorporates an understanding of the process behind the interview, the "why" and "how". Thus, besides question-and-answer rehearsals, the preparation may recreate an on-site mock TV interview fully equipped with lights, microphones and broadcast-quality cameras.
Practice makes perfect.
It's a wrap
Public relations is a critical component of branding and marketing in the digital age.
It should no longer be a siloed practice. Instead, it should be part of an integrated paid, earned, and owned multichannel marketing strategy. And it must be executed with the modern tools available for distribution and targeted outreach while being assessed with the measurement metrics that matter.