As a marketing agency, we don't sell software, we sell solutions. But a big part of modern digital marketing involves software, and by extension making smart choices about which software tools you use.
I'll be honest, finding the best-of-breed software product for a specific task at hand is tedious and time-consuming. But the smart and cost-efficient use of marketing technology, or martech, is a big part of who we are as a company and the services we provide.
The guys over at the Chief Marketing Technologist blog have been keeping track through the years of just how big the marketing technology scene is. They say that in 2023, there were over 11,000 martech solutions out there. Growth in the space has been phenomenal, to put it mildly.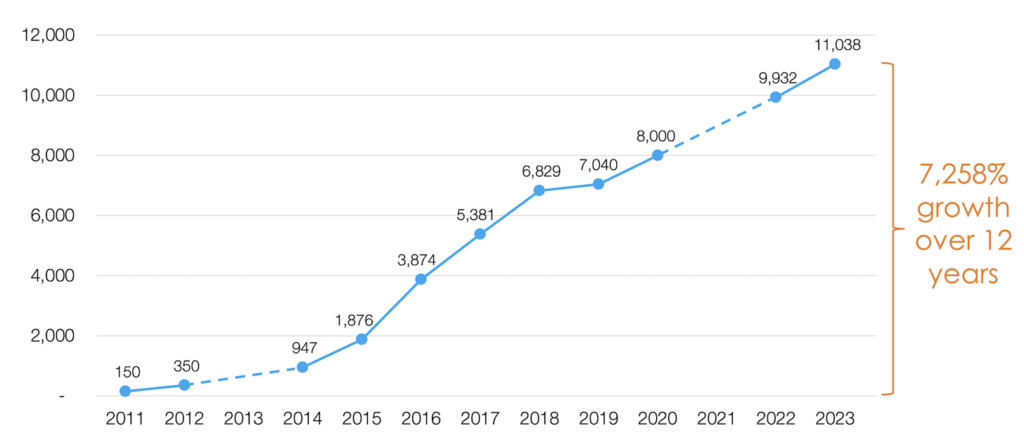 Let me share what software tools we are using right now, both internally and for our clients. Hopefully, this will save you some time, some money, and some pain.
WordPress
WordPress is a content management system (CMS), basically the software behind your website. We consider a brand's website to be its most important digital asset, so we'll discuss this first.
A CMS is used for websites that publish, well, content. That can be blogs, news, or a catalogue of widgets for sale online.
WordPress powers a third of all websites online today and commands a respectable 60% market share of the CMS space. It is such a big deal in what we do as an agency that I have written a separate article on it here.
Over the years, we've worked with Drupal, Joomla, and even Squarespace and Shopify. We have also worked with some pretty shocking legacy systems in place at some Fortune 500 companies. We've been through the pain, so you don't have to. Trust us. Go with WordPress.
We incorporate hosting in our Managed Web Services offering and host dozens of client sites at Pressidium, a dedicated WordPress hosting provider. If you run a WordPress website, working with a hosting provider that specialises in WordPress is a smart way to go. We also have good things to say about WP Engine and Pantheon.
We also use WordPress to create landing pages for our Managed Web Services clients, allowing them to launch targeted campaigns at the speed of marketing.
If we don't manage your site and you need landing pages for your campaigns, we can set up a subdomain such as go.yourbrand.com and publish landing pages via a WordPress instance there. That is a great solution for companies where access to the brand website is limited for compliance or security reasons (it happens), or whose brand websites are managed by teams that are not nimble enough to meet the modern marketer's needs. A subdomain specific to marketing is an answer.
HubSpot
After your website, tools that help you manage your relationship with visitors and turn them into customers come into play.
HubSpot is a done-for-you martech stack that addresses the requirements of marketing, sales, and customer success. For marketing, in particular, it is a veritable Swiss Army knife and is at the centre of much of what we do in content marketing and digital marketing.
It is what we use ourselves.
HubSpot also has landing page design, publishing and hosting, social media management, and ads management tools, among other things.
Native email marketing, marketing automation, and CRM (Customer Relationship Management) allow you to track user engagement and automate tasks based on that information throughout the customer lifecycle.
Like all email marketing and marketing automation programmes, it relies on cookies.
Whenever a user submits a form or opens an email, a tracking cookie is placed on that user's device. From there on out, you can track that user's activities on your website and their interactions with your emails.
If a user has signed up for your e-newsletter of weekly cooking tips, for example, and subsequently visits the food processor page in your online shop say, three times in a week, you could serve a pop-up offering a limited-time discount on food processors, send the user an email on cooking tips with food processors, or serve an ad on food processors the next time that user is surfing Facebook or Instagram. Cool, right?
There is a fine line between being smart and being creepy, but most people have become accustomed to that targeted, personalised marketing, and some demographics even expect it.
Why does all this matter? It matters because you can use that all information to design better user journeys for potential customers and personalise your ongoing engagement with existing customers. That's important stuff.
ActiveCampaign
ActiveCampaign is an email marketing and marketing automation tool with a basic CRM that works well in smaller businesses or an environment where sales and marketing are on different systems.
For example, Salesforce integrates tightly with ActiveCampaign, creating a powerful marketing suite for a fraction of the cost of Salesforce Marketing Cloud.
You could have rules and automations set up in ActiveCampaign that would filter and route leads to Salesforce as they progress through the buyer journey, from prospect to MQL to SQL, for example.
HubSpot also integrates well with Salesforce and is an option if you need a richer feature set than ActiveCampaign offers or if you want to replace a suite of marketing tools with an all-in-one solution.
We are a HubSpot Solutions Partner and ActiveCampaign Agency Partner, and work with our clients to get them the solution that best fits their needs.
Google Analytics and Search
Google Analytics and Google Search Console are tools that provide generic data about visitors to your website and landing pages, and how they found you. Those tools are part of the suite we use for search engine optimisation (SEO), an ongoing process to improve your visibility in organic search. More important stuff here. Being able to be easily found in search is a pillar of digital marketing.
For us, SEO involves both making sure your website is technically accessible to search engines and making sure the content on the site, be it static copy or articles, is search engine-friendly and answers users' needs. That is called on-page SEO.
Off-page SEO is the stuff that drives traffic to the site or drives awareness such as PR, social media, and people sharing links to the awesome content on your site.
Salween Group's content strategy team incorporates both on-page and off-page SEO as part of the strategy they ideate and manage across earned, owned, and paid channels.
Data is at the heart of digital marketing. By its very nature, digital marketing is measurable, and data is used to measure your campaigns' efficacy and optimise them. To make it easier to digest the multiple sources of data available, we run our client data dashboards on a white-labelled version of Agency Analytics. That is another example of where we've tried a few competing alternatives through the years (there are literally dozens of players in the data management and visualisation space) but picked the one that best suits our needs and clients' needs.
Asana
No martech stack would be complete without a project and task management tool. This is probably the software choice that haunts me the most at night (not really, but that sounds foreboding).
Your project management tool defines your workflows and how you interact with others in your organisation. By its very nature, it requires universal buy-in. Your whole team needs to adopt it and use it religiously.
What do we use? Asana.
For years we used CoSchedule, which is an incredibly awesome tool for marketers. I can't recommend it enough if all you are managing is an in-house marketing team for a single brand.
But our needs for internal and external collaboration outgrew what CoSchedule could offer at a competitive price point, and after a few months of research and trials, we went for Asana.
Project management software is another place where you're spoiled for choice, but once again, that magic "best price to features to the ease-of-use ratio" is what guides our choices. Asana ticked the boxes.
What else do we use? Here you go, in no particular order:
I mentioned at the start that we don't sell software, we sell solutions. We are agency partners of a few of the products mentioned here, and we use those partnerships to get things like advanced training and access to new features. We are 100% transparent when we make our tech recommendations to clients, and if we get commissions through any of our partnerships, we pass those back as cost savings.
That's something we are proud of, being able to offer the right tools for the job, transparently and without bias.
Do you have a favourite tool you think would help us work smarter? Or want more details on our experiences with any of the software mentioned above? We are here to help. Drop us a line, we'd love to hear from you.