Indonesia has emerged as one of Asia's most attractive destinations for foreign investment, and the Indonesian government and business community want to be putting their best foot forward on a global stage. At the World Economic Forum Annual Meetings in Davos, Switzerland, we created a platform just for that.
Both the Indonesia Night and Indonesia Pavilion have become flagship events at the World Economic Forum Annual Meetings, and as of 2023, this marks the seventh year Salween Group has been involved in organising and marketing them.
The goal of the events is to spark international awareness and conversations about Indonesia by showcasing the country's uniquely diverse cultural heritage and business opportunities on a major world stage. The Indonesian government and the business community jointly organise the events.
Event and Sponsorship Management
We conceptualised the branding of both events, Indonesia Night and Indonesia Pavilion, and coordinated sponsorship coverage, event programmes, microsites, and RSVP management.
From managing media opportunities and special guest invites to creating promotional materials, every aspect was meticulously planned and executed by our team.
Our work included email marketing to a select list of VIPs, venue conceptualisation and design, on-ground event management and vendor management, and post-event content production of both curated photographs and videos.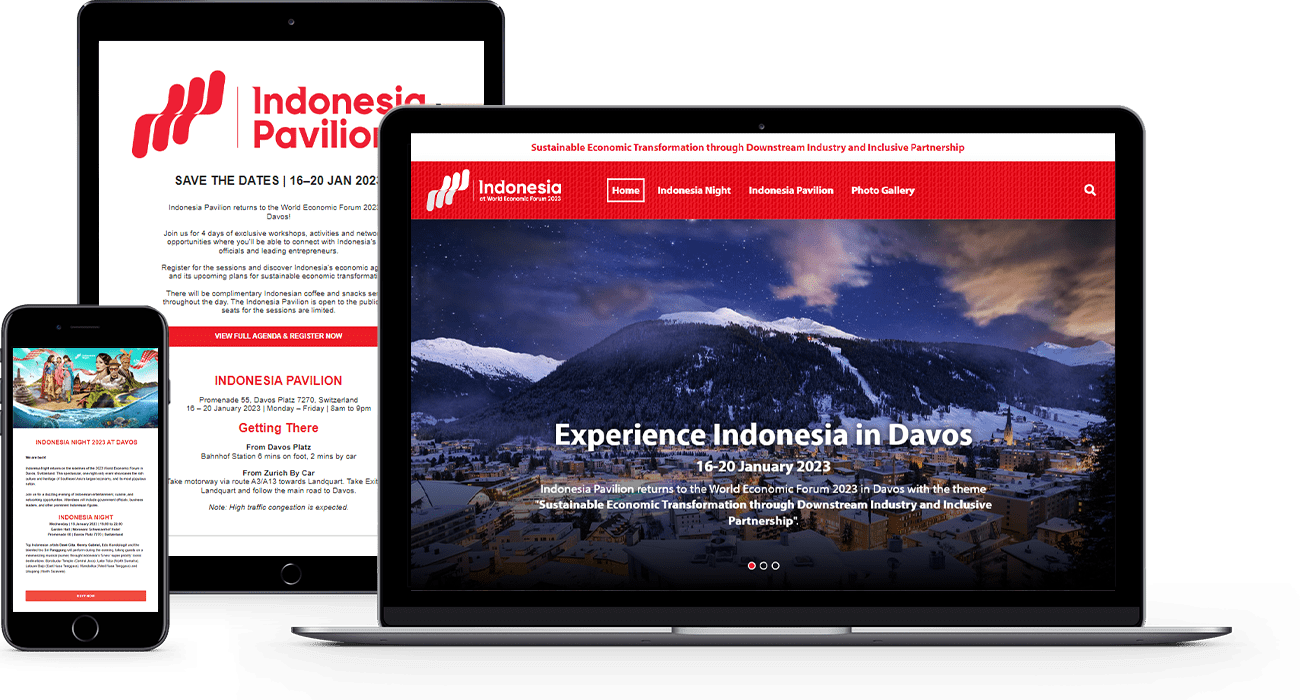 Indonesia Night 2023 Highlights
Salween Group has organised the past seven Indonesia Night events held on the sidelines of the annual World Economic Forum meeting in Davos, Switzerland. The one-night RSVP-only event showcases the best of Indonesian culture, food, performing arts, and opportunities to over 700 guests.
Indonesia Pavilion 2023 Highlights
We also organised the Indonesia Pavilion, a week-long event space for meaningful workshops hosted by the Indonesia Investment Coordinating Board (BKPM) to further complement Indonesia Night.
2023 marked the fourth time the Indonesia Pavilion made it to Davos.
Indonesia Night and Indonesia Pavilion have become sought-after events where WEF attendees could network with strategic partners. Both have received strong support and positive feedback year after year, further establishing Indonesia as an investment stronghold in Southeast Asia.