With an onslaught of algorithm changes and rising advertising costs – it's become harder than ever to get in front of and grab the attention of your ideal customers on LinkedIn. A powerful way to amplify your reach and maximise your LinkedIn marketing efforts is to lean into an untapped resource: your people.

Employee advocacy is one of the most effective yet overlooked ways to boost brand awareness, attract top talent and ultimately help drive demand for your products and services.
What is Employee Advocacy?
Employee advocacy is when employees actively promote the brand or company they work at – typically through social media.
In practice, this looks like employees sharing branded company content as well as their personal experiences working at your organisation on their social channels. Think posting your company's latest research, product launch news, or employee-generated content like photos and recaps from company events that showcase your unique culture.
While there will always be a handful of engaged employees who will proactively share your content on their channels, the best way to leverage your employees and their networks consistently and at scale is to formalise the process by launching a LinkedIn employee advocacy program.
LinkedIn Employee Advocacy Benefits: Why It's Worth Investing
Empowering your employees to share valuable content with their networks can benefit your company and your LinkedIn marketing strategy in a few key ways:
Increase reach and authentically engage your target audience
Algorithms typically prioritise organic posts from people rather than companies. Why? Because algorithms serve up content, the platform believes its users want to see and are most likely to engage with. Unfortunately for businesses, branded content doesn't always fall into this category.

As people tend to trust and engage with authentic posts from people more often than generic corporate content, when your employees do advocate for your company, it can not only boost your credibility but also expand your reach and improve your engagement. Data from LinkedIn shows that, on average, employee networks have 10 times more connections than Company Page followers. When employees share your content, there's a good chance their connections may see and engage with it, amplifying your reach to a wider audience. Recent LinkedIn data also shows that employee posts can drive 2.5x more engagement than company posts.
On average, employee networks have 10 times more connections than Company Page followers

— LinkedIn
Plus, if your sales team is practising social selling on LinkedIn, they're likely already connected to a number of your active prospects and ideal customers, so empowering them to post regularly will help keep your brand top of mind. And before you can win that market share, you need to win mind share.
Demonstrate thought leadership
The value of thought leadership can't be overstated, especially during challenging economic times. Edelman research shows that 55% of decision-makers say that during a downturn, it's more important than ever for companies who don't offer products that are deemed essential to produce high-quality thought leadership if they want to win their business.
Cutting through the noise on LinkedIn is tough. Original research, a unique point of view, and relevant content that solves your clients' biggest challenges are essential to make your brand stand out in a crowded feed.
When your employees share your company's thought leadership along with their commentary, it helps to build their personal brands and begins to establish them as trusted industry experts, too.
Improve talent attraction and employer brand
In a competitive market, a strong employer brand is essential to attracting and retaining top talent. When employees organically pull back the curtain and highlight why your company is a great place to work by showcasing the culture in action, it can complement your HR team's recruitment efforts and aid in attracting candidates who align with your company's mission and values.
Getting Your LinkedIn Employee Advocacy Program Started
While the value of integrating employee advocacy into your LinkedIn marketing strategy is clear, getting your program off the ground can seem a bit daunting. To help you, we're outlining some best practices for launching your program.
Optimise your LinkedIn company page
As you'll be driving more traffic to your company's page, consider auditing and optimising your presence on the platform before rolling out your LinkedIn employee advocacy strategy. A good place to start is by ensuring your page's branding and profile details are up to date. For a deeper dive and best practices for creating a standout page, check out our article How to Optimise Your LinkedIn Company Page: B2B Edition.
Set program goals
After you have a solid company page in place, it's time to document your program goals and how you'll measure success. What are you looking to achieve? This will look different for every company, but common examples include:
Boost employer brand and build a diverse talent pipeline
Increase brand awareness and reach more of your target audience
Drive demand and generate more qualified leads
Identify key employee advocates
While it may be tempting to launch your program company-wide right off the bat, consider piloting your program first with a small group of engaged employees who are already active on LinkedIn. This group will be more likely to participate as they already recognise the value of social and can help refine your processes before rolling out to a wider group.
Provide training and clear guidelines
If you don't have a social media policy in place, now's the time to create one. Your company's policy should provide clear guidelines for how the brand shows up on LinkedIn. A few things to cover:
The goals of your employee advocacy program
Direction on what to post vs. what not to post
Brand guidelines, including tips for tone of voice when writing on social
Best practices for sharing content on LinkedIn
Training on how to use tools, if you're investing in employee advocacy software to scale your program
Curate compelling content and make it easy to share
Employees won't consistently share if it's not easy, so it's up to you to make the barrier to entry as low as possible. Make posting simple for your people by sending regular internal communications that promote your LinkedIn employee advocacy program and provide toolkits with pre-written copy that's on brand; include writing prompts employees can adjust for their own voice, and ready-to-go graphics.

Or take it one step further and leverage LinkedIn's Recommend to Employees feature to promote seamless sharing. Head to your Company Page admin view, click Recommend to Employees, and start writing your post. After you click the Recommend button, your employees can see the content you've curated for them by visiting the My Company tab on your page and seamlessly share it.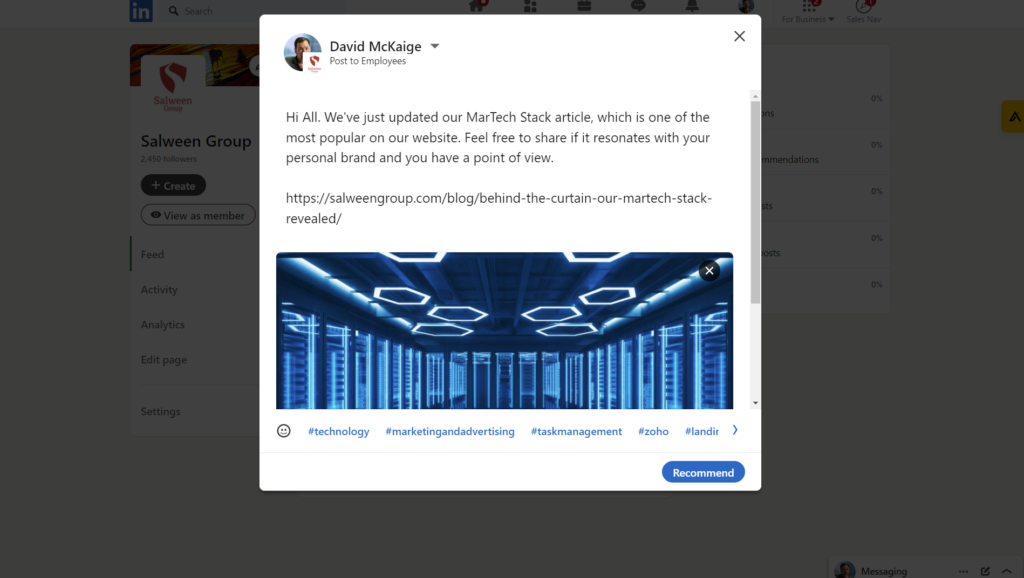 And by using LinkedIn's employee advocacy analytics, you'll be able to track the impact your recommendations are having on your advocacy program.
When curating content, consider what type of content employees would be most likely to post. A good starting place is educational resources that provide value and help solve a problem for your target audience and existing clients.
Reward participation
Once you've rolled out your program and the first few posts have hit the feed, it's key to sustain momentum if you want to see your program flourish and your reach soar. Consider rewarding top advocates for their ongoing participation. This could include gift cards, company swag, or recognition at an all-hands meeting.
Measure and Optimise
After your program has been up and running for a few months, it's time to see how you're tracking towards those goals you set at launch. And you can report on some key metrics directly from LinkedIn. Using the Employee advocacy analytics functionality, Company Page admins can track the following, which can ladder up to your business and brand awareness goals:
The number of recommendations made, posts from recommendations, reactions and comments on posts, and reposts within a specific timeframe.
LinkedIn members reached, defined by the number of LinkedIn members who interacted with your employees' posts according to their company, location, job function, seniority, and industry.
Recommendation engagement analytics that measures the quality of content recommended to employees, including impressions, reactions, comments and reposts.
Scaling Your Program With Technology
After initial success has been realised, you may want to take your program to the next level and implement an employee advocacy platform. These tools streamline and simplify advocacy activities like content distribution, turn advocacy into a friendly competition that drives engagement with gamification, and provide insights and metrics that go deeper than what's available within LinkedIn itself. A few tools to consider when evaluating are Oktopost, Shield, and Inlytics.
Next Steps
Empowering your employees to share valuable, relevant content with their networks helps them build their personal brand while extending your reach and amplifying engagement. It's a win-win for your company and your employees and a great complement to your always-on organic and paid LinkedIn marketing programs.
To learn more about LinkedIn employee advocacy programs or for help launching yours, see how our social media team can assist.