The Cambodia Run Challenge is a cross-country ultramarathon aimed at raising funds for Temple Garden Foundation (TGF), a charity organisation that creates sustainable change for rural communities in Cambodia.
It is also one of our passion projects, and we support the Cambodia Run x TGF team through a 360-degree digital approach that includes a website, video production, a social media strategy, as well as collateral designs.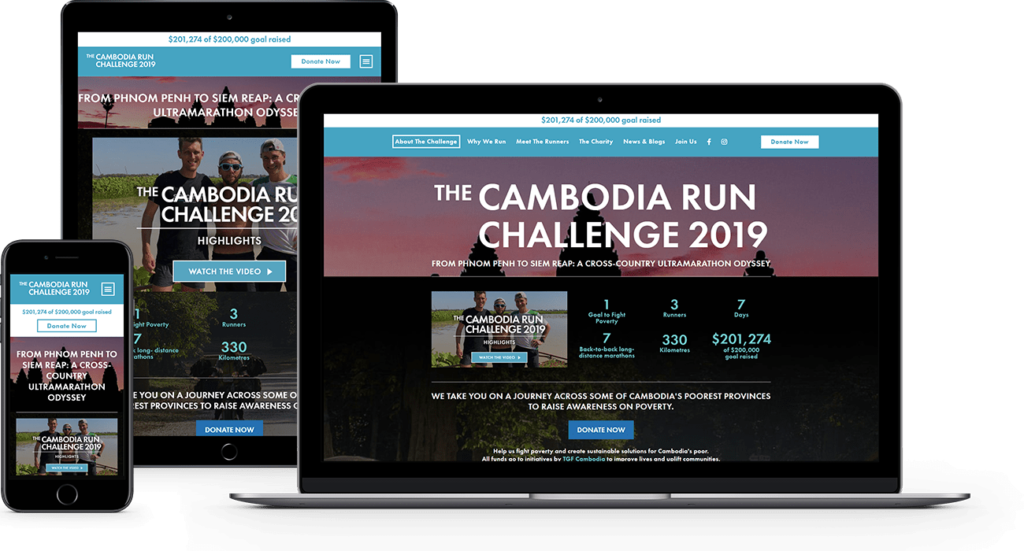 An Interactive Website Design
The modern hub of any charity is its website. It should be a platform where visitors can find out anything and everything about their work and be able to donate seamlessly through a clear call-to-action.
To ensure that the website donation funnel accepted donations from locations across the world, multiple donation methods via PayPal and Give2Asia were integrated with the website.
We designed a website that was interactive and simple yet informative without being too wordy. By using a mixture of images, videos, and infographics, the website could convey hard facts and figures in an effective and visually engaging manner without being too text-heavy.
Using Videos to Evoke Emotions
Video storytelling harnesses the power of emotions and builds a connection with the audience – which words and images may fail to mirror in certain scenarios.
We produced two 1-minute pre-run videos to articulate TGF's impact, not just on the community they help, but on alleviating poverty in Cambodia.
Post-event, a series of videos were produced and shared on social media to capture the runners' journey and personal breakthroughs during the 7-day run.
By showing the cause and effect of the team's dedication, the videos delivered a compelling story that encouraged contribution to the cause.
Communicating Through a Social Media Strategy
Building a presence through social media without a defined strategy can be counterproductive.
With our strategy defined by goals, we had a calendar that was pre-filled with content in advance. Cambodia Run's Instagram was fully managed by us, and we worked tightly with the TGF team to leverage their social media channels and outreach.
Our team was on-ground to document the sights and scenes on Instagram, effectively using social media as a live broadcasting platform.
Media Outreach
We initiated a short press campaign, which covered the week leading up to the Challenge as well as a few weeks post-Challenge.
Aside from the two press releases created for Southeast Asian business media, Challenge founder Mark Ferguson and TGF Co-chair Brad Levitt were also pitched to media outlets so that they could speak on the importance of this initiative and what it stood for.